Official Bullet Catch 2



Most dangerous feat in magic! Bullet Catch as done by David Blaine-Penn & Teller-Criss Angel- Dorothy Dietrich, Chung Ling Soo, others. from our collection.

BULLET CATCH articles from many sources.

WARNING! Do not attempt the bullet catch. As you will see from this webpage, this is a very dangerous undertaking, no matter what the method, or what precautions are taken. In short order we will be expanding the site with more of our information.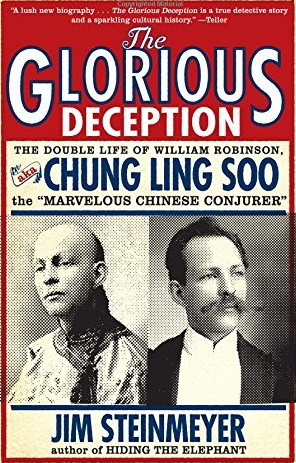 The Glorious Deception - The Double Life of William Robinson, aka Chung Ling Soo, the "Marvelous Chinese Conjurer"
by Jim Steinmeyer The-Glorious-Deception.jpg This book is about the fascinating biography of Chung Ling Soo. A magician from late 19th and early 20th centuries who died on stage during a performance of the Bullet Catch trick. After his death many of the mysteries about this man began to unravel. He was not Chinese, but an American by the name of William Robinson. He was the husband of Olive Robinson (Suee Seen). But, he also kept a second family with a mistress in a fashionable home near London. This is probably the most complete biography of this amazing illusionist. It is entertaining, and above all, informative. We highly recommend it.
(Hardbound with dustjacket - 451 pages)


Review and info of play The Mystery of Chung Ling Soo
Mystery of the magician who spent his life dodging bullets JACKIE MCGLONE
WILL THE strange affair of the mysterious death of Chung Ling Soo - the inscrutable magician once as feted as his contemporary, the great escape artist Harry Houdini - finally be solved in Edinburgh this August?
Adam Koplan, the man who is bringing this bizarre tale of a Scots-American prestidigitator - who may or may not have been murdered while performing the signature trick that made him famous - is playing his cards close to his chest. "I don't want to give too much away," says the New York-based director of The Flying Carpet Theatre Company, whose new physical theatre piece about the magician, The Mystery of Chung Ling Soo, will be staged. "But certainly the show will reveal that the truth really is stranger than fiction."
In fact, the bizarre story of the life and death of Chung Ling Soo sounds like something out of an Agatha Christie novel or one of those vintage Fu Manchu movies. For Chung Ling Soo was shot dead while "Defying the Bullets", his dicing-with-death illusion which he had been performing routinely on stage for decades. He would catch the bullets fired at him by two assistants in his teeth and they would rattle into a china plate he held in his hands.
When examined, the bullets had marks identical to those that were placed in the muzzle of the revolver, which had been inspected on stage by either the military or the police.
However, on 23 March 1918, in front of the usual packed house in London's Wood Green Empire, something went dramatically wrong. The bullets were fired as usual, but the magician fell to the ground. With a gasp, he cried: "My God, I've been shot. Lower the curtain."
One of the pistols, it was said, had malfunctioned and a bullet had pierced his right lung. He died the following day. Yet his story continues to exert an extraordinary fascination. It certainly captured the imagination of Paul Daniels, who co-authored a book about the history of magic in which Soo looms large. And - with the assistance of lovely wife Debbie - Daniels once recreated the trick on his popular TV show with the aid of one of Soo's original riflemen.
"Today, Soo's story stands as a cautionary tale for magicians," says Koplan, pointing out that Houdini himself wanted to emulate the bullet catch but was dissuaded by friends who worried that the great man would share Soo's bloody fate. "After the illusionist Roy Horn - of Siegfried and Roy - was mauled recently, Soo's story was for ever being recounted as the iconic example of the risks and dangers of performing magic."
Indeed, the gun that killed Soo now resides in David Copperfield's collection of magic paraphernalia. And yet, says Koplan, the legend and puzzling personality of Soo as a performer, with an grand knowledge of conjuring and legerdemain, eclipses the strange circumstances of his death. Many magicians still perform his tricks, while Orson Welles, a grand illusionist himself, even approached Soo's family about the possibility of making a biopic.
So whodunit? Was Soo's death a hate crime? Or was it a crime of passion? He was a philanderer with a wife, as well as a mistress and a secret family. And why did his manager, William Robinson, mysteriously disappear on the night Soo was shot? Was he the victim of the powerful Chinese Tong gangs who had him killed to prevent the ancient secrets of the Orient from being revealed? In The Mystery of Chung Ling Soo, Koplan promises he and his five-strong cast will attempt to solve these riddles "with dazzling illusions in a phantasmagoria that spins a real-life murder mystery topsy-turvy".
So, who was Soo? Born on 2 April 1861 in New York, he grew up in Brooklyn. His real name was William Ellsworth Campbell, but he later changed it to Robinson. As a magician, he dressed in long robes and wore his hair in a pigtail and rarely spoke on stage. His performances were occasionally punctuated by the words, "much glad", in broken English and soon became a real celebrity.
Claiming to be a humble Oriental, Soo's image fitted snugly into the Victorian-Orientalist image of old China. But later, he had to contend with the prejudice fostered by the Boxer rebellion, an event that he dealt with in his defying-the-bullets routine, which he called his "Condemned to Death by the Boxers" trick to demonstrate his loyalty.
He revealed that, although born in America, he was actually Scottish and was photographed wrapped in the Saltire. He also announced that his engineer father was a descendant of the Campbell and Robinson clans.
In an interview, he said his Scottish father had married a Cantonese woman. He claimed his father had died when he was seven and his mother when he was 12. As an orphan, he had been apprenticed to a Chinese magician named Arr Hee, with whom he moved to South America. When Arr Hee died, Soo travelled the world perfecting the art of illusion, combining old Chinese tricks with more modern European methods. But the half-Cantonese apprentice of Arr Hee was in fact an illusion - as was the woman that Soo would conjure in an empty glass cage, or produce from a boiling cauldron - this petite Chinese woman was actually his very English wife, Dot Robinson. It has since emerged that both Soo's parents were actually Scots.
He worked extensively as a performer, assistant and illusion builder, first billing himself as Robinson, the Man of Mystery, before reinventing himself as Chung Ling Soo.
He made a stellar career for himself - he was a celebrity in the way that David Copperfield is today," says Koplan. "Along with Houdini, he was the highest-paid star on the Vaudeville circuit, although he maintained that he wasn't interested in money.
"After he died, rumor was rife because he was so famous. Much like Bruce Lee, it was thought the Chinese Mafia had done it. Then, of course, it came out that he wasn't Chinese, that he was actually Billy Robinson and had hoodwinked the public for 20 years. So his greatest trick of all was this grand deception. The idea of living a life that is this wonderful, beautiful trick that becomes both your real and your stage persona fascinates me."
Koplan and his company spent two years researching and creating the show, scripted by Seattle-based playwright Amy Boyce. Koplan first came across the story of Soo when he staged another play about magic, The Dancing Handkerchief, a creation with Pig Iron company member Geoff Sobelle, who coincidentally brings his own new Beckettian two-hander, All Wear Bowlers, to Aurora Nova this August. "I started reading all these books about magic, about which I knew nothing," says Koplan. "The most vivid chapters in all of them were on Chung Ling Soo, because his life was as dramatic and magical as any of his tricks. You really couldn't make his story up."
The Mystery of Chung Ling Soo comes to Edinburgh in association with New York's 78th Street Theatre Lab, which under the artistic directorship of Eric Nightengale has created the innovative From Page to Stage series developed in the tradition of the living newspaper.
Their productions, frequently premiered in Edinburgh prior to opening in New York, draw theatrical inspiration from real events pulled from news stories and developed through extensive research, experimentation and improvisation. Past Theatre Lab productions in Edinburgh include Man in the Flying Lawn Chair, Snatches, Kenneth, What is the Frequency?, and Boy Steals Train. They've won two Fringe Firsts and the Stage's Best Ensemble award. So was the bullet trick all done with smoke and mirrors? Koplan hesitates, before confessing that he does know the secret. "I'm not a super purist about it, but there's a sort of code among magicians about not revealing the tricks of the trade. Was it foul play? There was a thorough police investigation - and a verdict of death by misadventure was recorded. But there is still speculation Soo engineered his own demise, perhaps because he was in debt. Then there was his tangled love life - he and his wife had split up, although they maintained the illusion of being together. Yet another conjuring trick!"


CHECK OUT OUR SPONSORS
Website of Scranton Fun Magical Mystery Entertainer Dick Brookz




Things to do

Learn about magic's most dangerous stunt | Things for bus groups to do. | Book a room in any city in the world | Various informative links | Take a cruise | Guide to cruises | One of the world's leading female magicians | Poconos online magazine of things to do | Where to go on a Honeymoon | Discounts for Honeymoons, Caesars, etc | Houdini Information World's only Museum entirely devoted to Houdini | Site dedicated to the Houdini Seance | List of magic events | New site for magic auctions | Calendar of magic happenings | Dedicated to NY's Magic Towne House. | Travel the USA | Auction site dedicated to magic | mystery bus ride | mystery bus tour | mystery bus trip | Visit with a leading mystery entertainer | Spend a Mystery Night out | originalhoudiniseance in NY | petfoodrecipes | Boating in the Poconos | Pocono Mountains Directory | Pocono Mountain Index | Coupons for Pocono Mountains attractions | Discounts in the Poconos | Poconos Leading Guide | Getaway to the Pocono Mountains | Getaways in the Pocono Mountain Region | Discount Honeymoons in the Pocono Mountains | Honeymoon int the Poconos Mountain Region | Comprehensive directory of Pocono Mountain NE PA Hotels | Restaurants in the Mountains of the Poconos | Pocono Honeymoon Information | The first auction site in Canada | http://Everything important to do in Scranton PA | Find and Reserve throughout the world | Comprehensive listing of magic events throughout the world | Haunted events throughout the world that run most of the year. |

Web Sites of Interest

bulletcatch, magic's most dangerous | busgroups | CityDirectories | crosslinkz | Cruise Fun Guide | Cruise Line Guide | Dorothy Dietrich, Leading female magician | Guest Magazine | Honeymoon Directory | Honeymoon Discounts | Houdini Museum Archives HoudiniShowspot | Houdini Seance | Magic Calendar | Magicians Auction | Magicians Calendar | NY's Magic Towne House | MagicUSA Travel reservations | Magic USA auctions | Mystery Bus Ride | Mystery Bus Tour | Mystery Bus Trip | Mystery Entertainer | Mystery Nights | Original Houdini Seance in NY | Pet Food Recipes | Pocono Boating | Pocono.net | Pocono.org | Pocono Coupons | Pocono Discounts | Pocono Fun Guide | Pocono Getaway | Pocono Getaways | Pocono Honeymoon | Pocono Honeymoons | Pocono Hotels | Pocono Restaurants | Pocono Rooms | Poconos Honeymoon | PolarAuctions | Psychic Evening | Psychic Night | Psychic Theater | Psychic Theatre | Anime site | Scranton, PA | Supernormalist | Where To Find Travel | Comprehensive listing of magic events throughout the world | Haunted events throughout the world that run most of the year. |